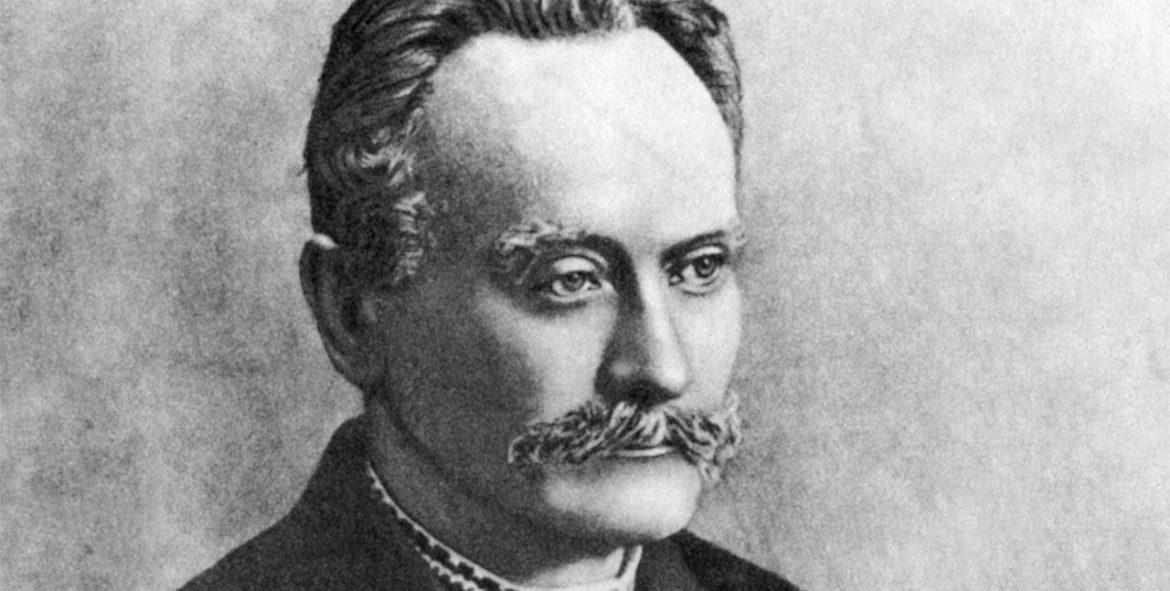 Ivan Franko, born 27 August 1866 in Naguievychi (today I. Franko), Drohobych county, Galichia, died 28 May 1916 in Lviv. Writer, scholar, political and civic leader, publicist.
The son of a village blacksmith, Franko graduated from Drohobych gymnasium in 1875 and began to study classical philology and Ukrainian language and literature at Lviv University. His first literary works were published in the students magazine Druh, whose editorial board he joined in 1875. Franko's political and publishing activities and his correspondence with M. Drahomanov attracted the attention of the police, and in 1877 he was arrested for spreading socialist propaganda. After spending eight months in prison Franko returned to political work with even greater fervor. He helped to organize workers' groups – in Lviv. In, 1880 Franko was arrested again. After serving a three-mouth term, he was released but was kept under police surveillance and was forced to discontinue his university studies.
During the first period of his creative work Franko wrote political poems, such as "The Stonecutters" (1878), "The Eternal Revolutionary" (1880), which became patriotic anthems and influenced the outlook of a whole generation; the novels "Boa constrictor" (1878), "Boryslav Is Laughing" (1881), and "Zakhar Berkut" (1883); and a series of literary and journalistic articles. In 1881 Franko copublished the journal Svit and after its closing in 1882 he edited the journal Zoria and the newspaper Dilo (1883-5). In May 1886 he married O. Khorunzhynska in Kyiv.
For a while in 1888 Franko was a contributor to the journal Pravda. His ties with compatriots from Dnipro Ukraine led to a third arrest in 1889. In the following year, with the support of M. Drahomanov, Franko co-founded the Ruthenian-Ukrainian Radical party and drew up its program. In 1899 a crisis arose in the Radical party, and Franko joined the Populists in founding the National-Democratic party, in which he was active until 1904, when he retired from political life. For many years Franko collaborated in the sociopolitical field with M. Drahomanov, whom he regarded highly as a European political leader, but eventually their views on socialism and the national question diverged.
Besides his political and literary work Franko continued his university studies, first at Chernivtsi University (1891), where he prepared a dissertation on I. Vyshensky, and then at Vienna University, where on 1 July 1893 he defended a doctoral dissertation. In 1894 Franko was appointed lecturer in the history of Ukrainian literature at Lviv University. In 1894-7 he and his wife published the journal Zhytie i slovo in which many of his articles appeared. In them he attacked Marxism as 'a religion founded on dogmas of hatred and class struggle'.
With M. Hrushevsky's coming to Lviv in 1894, Franko became closely associated with the Shevchenko Scientific Society. In 1899 he became a full member of the society and in 1904 an honorary member.
In 1908 Franko's health began to decline rapidly. Yet, he continued to work to the end of his life. In this last period he wrote "Outline of the History of Ukrainian-Ruthenian Literature to 1890, 1910" and "Studies of Ukrainian Folk Songs" (1913) and did numerous translations of ancient poetry. In 1913 all Ukraine celebrated the 40th anniversary of his literary work.
With his many gifts, encyclopedic knowledge, and uncommon capacity for work, Franko made outstanding contributions to many areas of Ukrainian culture. He was a poet, prose writer, playwright, critic, literary historian, translator, and publisher. The themes of his literary works were drawn from the life and struggle of his own people and from sources of world culture: Eastern cultures and the classical and Renaissance traditions. He was a golden bridge between Ukrainian and world literatures.
Franko was one of the first realists in Ukrainian literature and the most outstanding poet of the post-Shevchenko period. His greatest poem, "Moses" (1905), which in a biblical setting deals with the conflict between a leader and his people and proclaims the ideal of service to one's people, was based to a large extent on autobiographical material.
Franko's prose works include over 100 .short stories and dozen of novels. His earliest prose works (beginning in 1877) from the Boryslav cycle, which painted a vivid picture and gave a profound analysis of the social evils that plagued Galicia at the time. His greatest masterpieces of prose are the novel "Boa constrictor" and the social novel "Boryslav Is Laughing", which for the first time depict the incipient forms of revolutionary struggle among the workers and the spontaneous awakening of working class consciousness. "Zakhar Berkut" (1883), a historical novel based on ancient Ukrainian chronicles, presents the heroic resistance of Ukrainian highlanders to the Mongols in 1241.
In drama Franko proved himself a master of the sociopsychological and historical play and of comedy. .His best plays are the sociopsychological drama "Stolen Happiness" (1894) and the historical drama in verse "The Dream of Prince Sviatoslav" (1895). Franko contributed several masterpieces to children's literature, including "Fox Mykyta" (1890), "The Adventures of Don Quixote" (1891) etc. Special mention must be made of Franko's work as a translator, which he carried on throughout his life. He translated masterpieces from 14 languages by famous authors including Homer, Dante, W. Shakespeare, J. Goethe, E. Zola, O. Pushkin, M. Lermontov.
In the area of linguistics Franko produced several studies of the Ukrainian literary language, including "Etymology and Phonetics in Southern Ruthenian Literature" (1894), "The Literary Language and Dialects" (1907). For his philological contributions Franko was awarded an honorary doctorate by Kharkiv University in 1906. He was also elected to a number of Slavic scholarly associations.
In the field of ethnography and folklore Franko collected a wealth of source material and wrote a series of studies and articles about the clothing, food, art, and beliefs of the Galician people.
About a hundred published works, most of them dealing with the peasant movement and the 1848 revolution in Galicia and with Ukrainian-Polish relations, were the subjects of Franko's sociological, sociopolitical, and historical-economic studies.
Franko's world view was influenced by A. Comte and H. Spencer's positivism, Ch. Darwin and E. Hacckel's theory of evolution, the theories of French, German, and Russian sociologists. Yet, Franko remained true to himself and formed his own outlook.